PANTO – Accommodation pantograph door
Machined out of one piece of aluminium
Very good looking, slim, flush and luxurious door
Firm and elegant movements
Smartly placed pantograph arms for minimal obstruction and roam for a window
Accurate, solid and lightweight design.
'Plug and play' The door, the frame and the parts are fully assembled and tested in the factory and will be delivered ready for installation
The door can be certificated by all major classification societies.
Bolted frame
Insulation with cover plate
Window
Electric operated
The door or frame in steel or stainless steel
The door shaped according the yachts form
Fully finished, with filler and paint
Other dimensions than standard
Certification by major classification societies
Smartly placed pantograph arms
PANTO – Technical Specification
The PANTO door is machined out of seawater resistant aluminium 5083. The door is fitted out with stainless steel 316L heavy duty operating arms. The door is a proven Newthex design. It is fitted out with high quality Newthex parts and a stainless steel pin central operating NEXT closing and locking system. When closed, the door is flush with the outer structure, Weather tightness is achieved by the Newthex special designed V-shape seal.
Sigmacover is applied at all aluminium parts. Stainless steel is pickled and passivated. Stainless parts in sight are polished according "Mirror 8" Galvanic corrosion protection is achieved by using TEF-Gel, Sika ex 291, Lexan insulation sheets and synthetic inserts wherever applicable.
The door is designed with Solid Works 3D software and strength calculations are carried out with Cosmos Works. Door, frame, operating parts and cover plate are fully assembled, adjusted and tested in the factory. The door will be delivered within the frame and ready for welding or bolting into the yacht's structure. The door can be delivered with certificates of all major classification societies.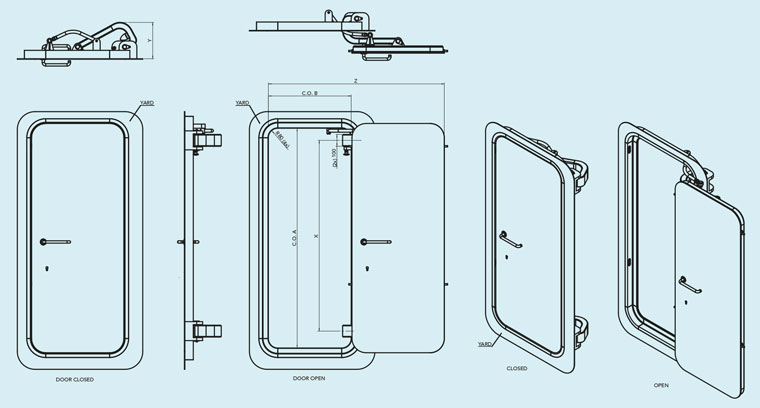 Measures and weights: (Other dimensions on request)