Watertight and weathertight, manually operated doors are vital to the safety of every naval vessel. In the event of a breach in the hull accompanied by major systems failure, hand operated watertight doors enable the crew to preserve the integrity of the ship even when the electricity supply is compromised.
Newthex is proud of its Next Door range of manual, watertight doors. Built to the highest specifications, they are simple to operate, strong and reliable and, with stainless steel closing mechanisms and self-lubrication bearings, require minimal maintenance. Instead of the usual handwheel locking mechanism, Newthex Next watertight doors are fitted with a single handle that, when used in combination with our Next closing system, allows them to be operated with one hand instead of two. This benefits the operator and saves valuable time in the event of an emergency. Independent light sources in the handles that activate in the event of a blackout are available as an option.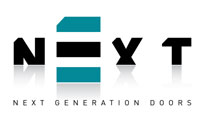 Deliverable in non-standard dimensions and large quantities
Newthex has the capacity to produce large quantities of doors for major projects that are designed for easy, plug-and-play installation. The frames can be fabricated in various grades of steel, stainless steel or aluminium, and can be either welded or bolted in position.
Watertight up to 15mwc, higher on request
Gas tight
RCS Radar cross section
Shockproof
Flush execution
Armoured / bullet proof