Superyacht stern platform doors
We design and build beach platform doors in all sizes for every superyacht. All Newthex stern platform doors and the frames can be manufactured out of shipbuilding steel Grade A, stainless steel 316L or seawater resistance aluminium 5083.
Newthex tender garage doors follow the curvature of the superyachts hull. We can create doors that can be placed in the forward end of the ship or at the aft end of the ship. In most cases our tender doors are designed with Newthex invisible hinges.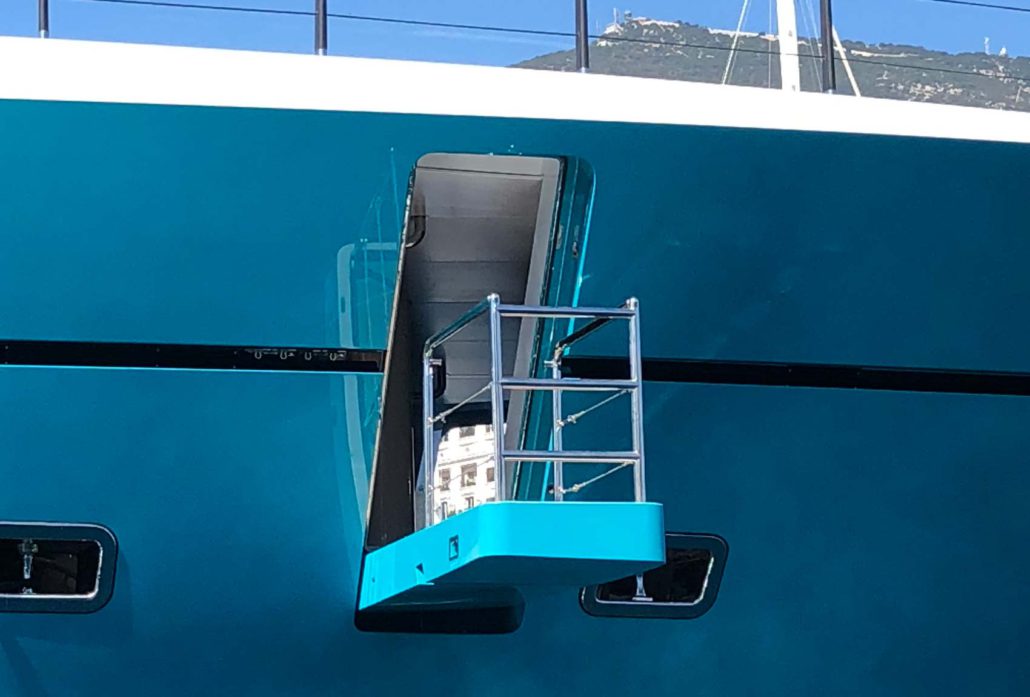 Newthex delivers maritime mooring doors for the ships hull. All designs are tailored to the clients needs. Newthex mooring doors are manufactured in steel, stainless steel, aluminium and GRP.
Hidden flush transom door
Create the perfect beachclub without the shade of an upwards hinged transom door and without the cons of a transom swimming platform that is more exposed to the waves. At Newthex we offer the perfect solution with our 'Hidden flush transom door'.
Lifting platforms with hatch
For the storage of large vessels like helicopter we build and design custom lifting platforms. Most of our platforms are driven by a hydraulic jigger cylinder which are capable of moving heavy objects easy and smooth in a limited space. 
Superyacht bulwark balcony
Newthex bulwark balconies provide additional space to your vessel. The balcony is shaped according to the yachts construction and has an invisible electric or hydraulic operation mechanism. Special features can be added like an automatic railing and wireless remote controls.

Weathertight exterior sliding doors
Bring the outside in. Sometimes you prefer to enjoy the beauty of the land, sea and sky around you from the comfort of the saloon or stateroom, while at other times you may want to immerse yourself in the experience, breathing in the fresh air at the same time as you admire the view.