Watertight door – NEXT – Yacht doors
An attractive and reliable proven design with a smooth cover plate
Easy operation by just one handle for central opening, closing and locking
The door is fitted out with the NEXT closing system
Stainless steel locking pins
'Plug and play' – The door, the frame and the parts are fully assembled in the factory and will be delivered ready for installation on board
The watertight doors are type approved by Lloyds Register of Shipping. Every single door is pressure tested before delivery
The door is watertight up to a pressure of 7 meter of water column
Opening left or right
Watertight window
Flush handle on inside and/ or outside
Insulation
Extended hinges for small passageways
Other dimensions than standard
Instead of steel, the door and frame can also be manufactured in stainless steel or aluminium
Bolted frame
Fully finished, with filler and paint
Sensor for monitoring the door on the bridge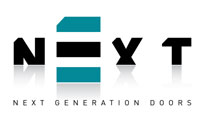 NEXT – Technical Specification
Standard dimensions: Opening height 2000 mm. Opening width 800 mm (Other dimensions on request).
Weight of the door and the frame: 140 kg (steel).
The watertight door and the frame is produced out of shipbuilding steel Grade A. Alternatively the door and/or the frame can be manufactured out of stainless 316L or aluminium 5083. The door is a proven Newthex design. It is fitted out with high quality Newthex parts, a cover plate and a stainless steel pin locking system. The watertight door can be fitted out with a flush handle on either side of the door. A sensor for monitoring the door on the bridge can be added. Sigmacover is applied at all aluminium parts and Sigmaweld on steel parts. Stainless steel is pickled and passivated. Galvanic corrosion protection is achieved by using TEF-Gel, Sika ex 291, Lexan insulation sheets and synthetic inserts wherever applicable. The door is designed with Solid Works 3D software and strength calculations are carried out with Cosmos Works. Door, frame, operating parts and cover plate are fully assembled, adjusted and tested in the factory. The door will be delivered within the frame and ready for welding or bolting into the ship's structure. The door can be delivered with certi cates of all major classi cation societies.
Before delivery, every single door will be water head tested in the presence of a local surveyor for approval.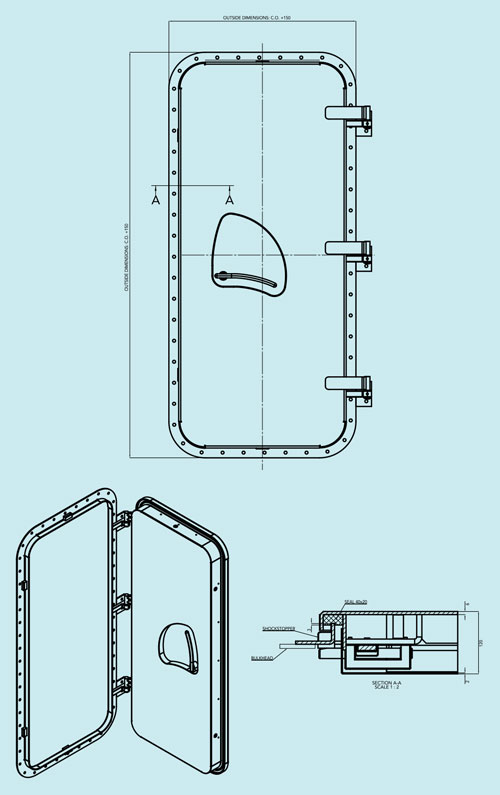 Measures and weights:
(Other dimensions on request)